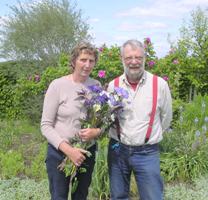 Nursery owners Philip Martino and Christine Dakin were inspired by the recent Sarah Raven television programme highlighting the state of the British cut flower industry. Currently, flowers from major retailers and high street florists are frequently grown in far-away places such as Kenya, Israel and even Australia.
This results in a high carbon footprint as they have to be flown to the UK market.
Since 1998, the nursery has been growing and selling a wide range of hardy garden plants to the public from their nursery at Tomlow Road, Napton. This exciting addition to the business has dedicated raised beds filled with traditional flowers and foliage for cutting and floral art.
To ensure absolute freshness, customers are encouraged to 'cut their own' from the seasonal range available. No roses at Christmas here!
Among the English/old fashioned/ cottage garden varieties grown are:
Marigold – Sunflowers – Sweet Peas – Cornflowers – Daisies – Sea Holly – Pinks – Gladioli – Dahlias – Scabious.
Enquiries are welcome at any time.
So, to help reduce 'air miles', care for the environment and support sustainable businesses, the message must be "Buy Local"!
For opening times, see the 'Home Page', for a map of where we are, use 'How to Find Us' and to contact us use the 'Contact Us' button.
Pick of the bunch!