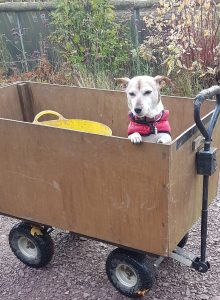 Over the past few weeks Sarah, may part time helper, has brought Sky with her. An elderly Jack Russell, a delightful companion who stays close to her owner most of the time. I'm not normally keen on this breed of dog but she is very likeable and seems to be ecstatic to see me each time which is very endearing. She sit and stares intently at something in the hedge, maybe a mouse? She faithfully trots after Sarah each time she wheels the trolley to the bonfire heap. During the mild month of November she was always near to where we were working when we were busy removing trolley loads of plants. Sarah did the heavier work of digging out a large diseased escallonia and a couple of tatty roses. She also removed masses of carex flagellifera and C.dipsacea which looked a mess more often than they looked good. Verbena bonariensis is threatening to take over the whole garden, each year several barrow loads are removed. Once the space was opened up and compost added we got on with deciding what to plant and then getting new plants in the ground. It now looks so much better but there is more to be done if it doesn't get too wet.
Choosing the right plant for the right place is never easy in this heavy clay soil. In the winter each border has a moat round it even though we have some drainage to remove some of it. The verbena seeds itself into this space which alternates between being soggy wet and baked dry. There aren't many plants which will tolerate these extremes. Some of the new plants will hopefully survive and thrive. They include Acorus, Geum, Ajuga, Hostas, Alchemilla (dwarf) Sisyrinchium Quaint and Queer and Ophiopogon. Sarah planted a ceanothus where the escallonia was and has also divided some Geranium Ann Thomas to extend the existing clumps. This is such a good geranium, clump forming, long flowering (from May to November), strong magenta colour.
Realistically it is unlikely that we will be able to do much more of these rather ruthless alterations because the weather has become much more wintery. There was almost an inch of rain the other day and it has been a bit too cold for both of us.